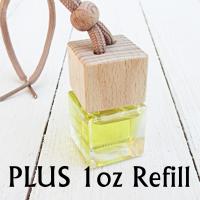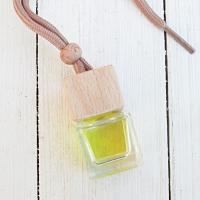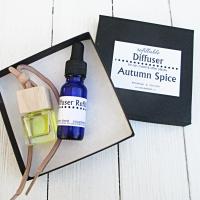 Car Diffuser, PLUS refill
What: Cute glass & wood diffuser for your car. With this purchase, however, you also get a 1oz glass bottle (with helpful dropper) with enough fragrance to refill your diffuser about 3 times! Refill is the same scent as the filled bottle.
Choose your favorite scent from the drop down list! See the larger (diffuser) listings for each scent if you'd like more info about the scent notes or check out the Scent Description List (link at the top nav bar).
Simply remove the 'travel plug' (this keeps the liquid safe inside until it gets to you). Do a quick flip to put some scent on the wooden lid, and hang it up! Great for the car (of course) but also works great in closets and other 'hanging spots'. I even hung some on my Christmas tree this year to add some extra holiday cheer. Each diffuser holds 8ml of scented liquid. Simply hang and forget. If the scent gets too soft, give it another quick flip & carry on. Run out of scent? Well you can get another diffuser (great if you want to try a different fragrance) OR check out my diffuser refill bottles!