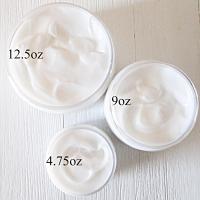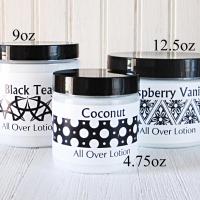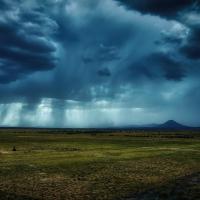 All Over Lotion, Spring Rain
All Over Lotion. Just like the name says, this is a medium weight body lotion that is perfect for all over, every day.
Scent: Spring Rain. Fresh clean 'water' scent. You can smell the greenery & floral as the gentle rain covers all with freshness.
Choose size from the drop down list.
More: All Over Lotion is a emollient rich, botanically infused body lotion. Packaged in a jar (so that you can scoop out just enough for use and get every little bit), and available in about 10 scents (some may be seasonal), it is the perfect product to use all over. Of course, as this contains fragrance, not recommended for face, delicate personal areas and skin that is broken or inflamed. You know your skin. If you are sensitive to fragrance, please do a patch test first. Discontinue use of any product if you see redness or itching.
Ingredient list: Deionized Water, Caprylic-Capric Triglycerides, Glycerin, Isopropyl Myristate, Glyceryl Stearate, Stearic Acid, Cetearyl Alcohol, Polysorbate 60, Dimethicone, Aloe Barbadensis (Aloe Vera) Leaf Extract, Allantoin, Panthenol, Tocopheryl Acetate (Vitamin E Acetate), Triethanolamine, Phenoxyethanol, Hexylene Glycol, Caprylyl Glycol, Ethylhexylglycerin, Fragrance. No color is added to this product. Color may range from pure white to a warm creamy shade due to the color of the scenting oil.
not intended for use by children.