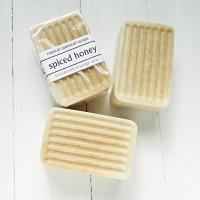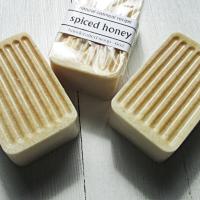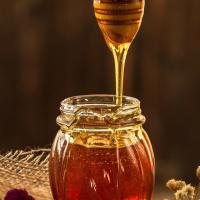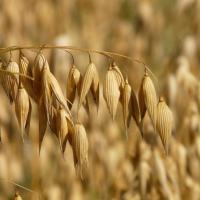 Spiced Honey Oatmeal Soap
Spiced Honey (and Tonka) a warm, sweet fragrance. Not candy sweet, like honey. The tonka bean scent mellows and warms/rounds out the sweeter notes.
Natural Oatmeal Soap! Crafted in my farmhouse mold (a chunky rectangle with grooves), each soap weighs over 6oz before cure. No color added!
This bar is molded, not cut, so each bar has the same ridged motif. A hefty soap, you can cut it in half for smaller hands.
Soap includes ground oatmeal that lightly exfoliates to keep skin looking its best. .

Ingredients: Coconut Oil, Palm Oil, Safflower Oil, Glycerin, Water, Sodium Hydroxide, Oatmeal, Sorbitol, Propylene Glycol, Sorbitan Oleate, Oat Protein, Titanium Dioxide. No color  added. Fragrance at 3%.
Multiple bars may be shown, along with props. Each sale is for a single bar, and props are not included. Wrapped bars shown to display packaging to you. The handheld bar gives you an idea of size. These are large bars and can be cut in half for smaller hands or multiple places.